The nation is saying farewell to the Duke of Edinburgh during a televised funeral at St George's Chapel in Windsor Castle following his death last week at the age of 99.
The Queen will lead a small group of close family and friends at the service for her husband of 73 years.
Covid regulations have reduced the scope of the service with public elements cancelled, mourners reduced from around 800 to just 30 and all guests wearing face masks and sitting apart.
The ceremonial elements of the service will include a procession which steps off at 2.45pm, followed by the arrival of a Land Rover carrying the coffin and a national minute's silence.
The service will start at 3pm.
Here are the latest updates:
2.40pm
The Duchess of Cornwall, Duchess of Cambridge and Countess of Wessex have arrived for the funeral.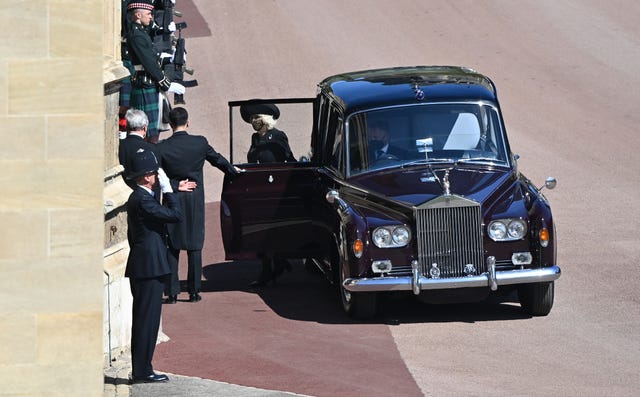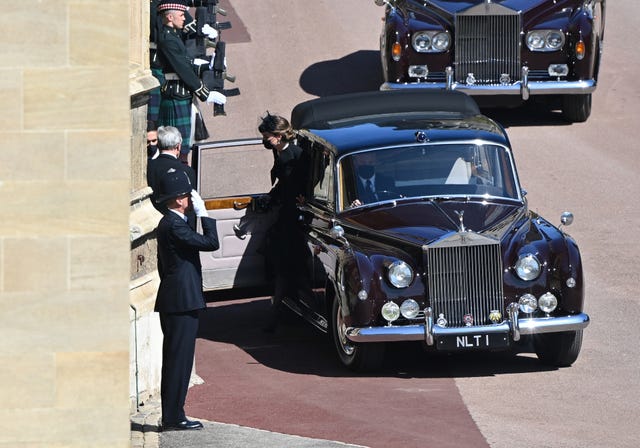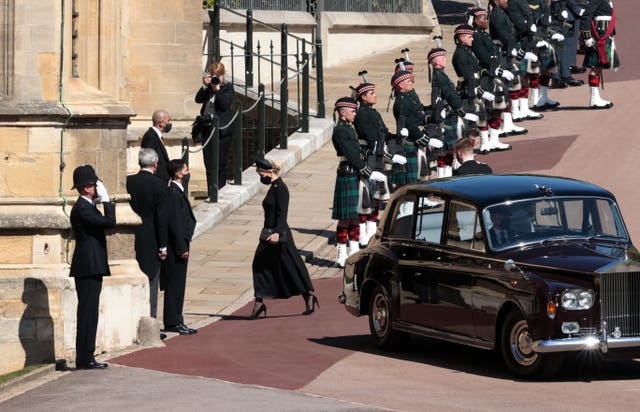 2.37pm
Philip's custom-built Land Rover Defender hearse, designed by the duke and modified over 16 years, has been driven into the castle's quadrangle and has stopped outside the Equerries' entrance.
The Defender TD5 130 chassis cab vehicle was made at Land Rover's factory in Solihull in 2003, the year he turned 82.
With its heavy-duty wheels and angular structure, the polished sturdy, utilitarian vehicle stands as a showcase for the duke's practical nature and his passion for functional design and engineering.
Chief of the Defence Staff General Sir Nicholas Carter, who is head of UK Armed Forces, along with the heads of the Army, RAF and Royal Navy, walked from the Equerries' entrance and took up positions by the State entrance and faced the Land Rover.
2.35pm
The card on a wreath left for the Duke of Edinburgh by the Duke and Duchess of Sussex in St George's Chapel was handwritten by Meghan, who is watching the funeral on television from her home in the US.
Meghan and Harry personally chose the locally-sourced flowers for their tribute – including Acanthus mollis (Bear's breeches), the National flower of Greece, to represent Philip's heritage and Eryngium (Sea Holly), to represent the Royal Marines.
The wreath also features Campanula for gratitude and everlasting love, Rosemary to signify remembrance, Lavender for devotion, and Roses in honour of June being Philip's birth month.
Meghan, who is expecting her second child was watching the proceedings from more than 5,000 miles away in California after doctors advised her not to fly.
2.30pm
Members of the royal family have appeared in public for the first time during the funeral, with those not taking part in the procession travelling by car the short distance from the castle to St George's Chapel.
Among the group were the Duchess of Cornwall, Duchess of Cambridge, Countess of Wessex and her children Viscount Severn and Lady Louise Windsor.
Zara and Mike Tindall, Princess Beatrice and her husband Edoardo Mapelli Mozzi, Princess Eugenie and her husband Jack Brooksbank also travelled by car.
They were joined by the Queen's first cousins Princess Alexandra, the Duke of Gloucester and the Duke of Kent, who loyally supported the monarch and Philip by carrying out royal duties over the years.
2.25pm
2.15pm
The duke's favourite driving carriage, accompanied by two of his grooms, was pulled by his two trusty black Fell ponies, Balmoral Nevis and Notlaw Storm, to stand in the Quadrangle, ready for the procession to pass by.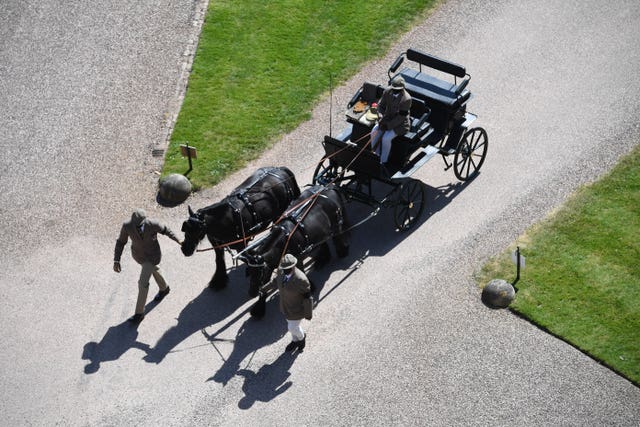 It was a poignant reminder of Philip's love of the fast-paced sport, which he took up when he turned 50 and continued to enjoy non-competitively in his 90s.
The polished dark green aluminium and steel four-wheeled carriage was built to the duke's exact specifications eight years ago, and he began using at the age of 91 for riding around Windsor and other royal estates.
The duke's cap, whip and brown gloves lay on the seat of his favourite driving carriage as it was brought into the quadrangle.
2.05pm
The Chief of the Defence Staff, General Sir Nick Carter, said the funeral for the Duke of Edinburgh will be a "sombre moment" but also a "celebratory moment" of a life well-lived.
"I think there won't be a serviceman or servicewoman on parade today who won't have their chest swelling with pride," he told Sky News.
"We all have a huge regard for him. We have a huge regard for his wartime record and the care that he showed for veterans and for those still serving, and it'll be a sombre moment for us, but it will also be a celebratory moment, I think, because it was a special life and a life that was well-lived."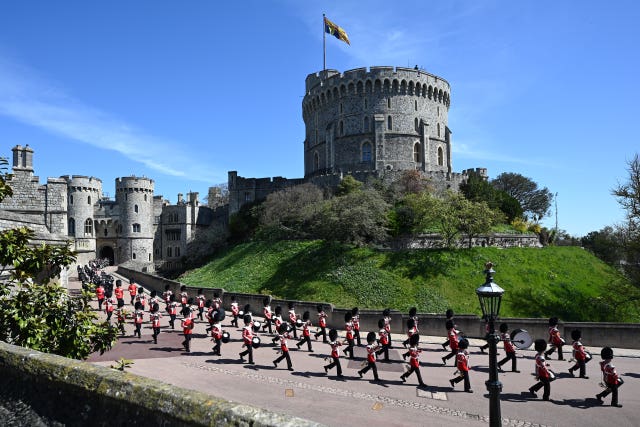 2pm
Baron Parker, who is the Lord Chamberlain – the most senior official in the Queen's household and in overall charge of the funeral, has moved to the inner hall where the duke's coffin is lying.
He has been joined by David Conner, the Dean of Windsor, who will conduct the service, and retired Admiral Sir James Francis Perowne, Constable and Governor of Windsor Castle.
1.56pm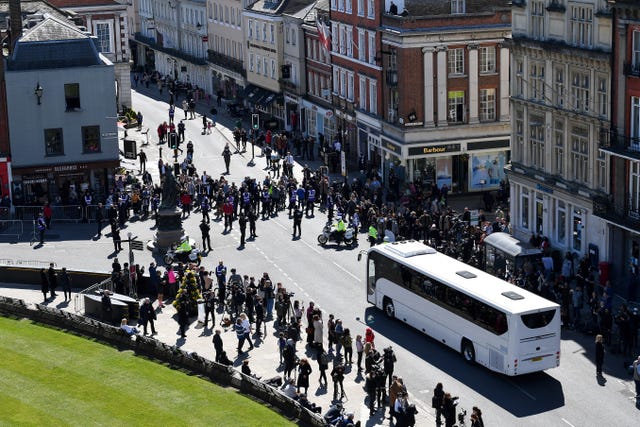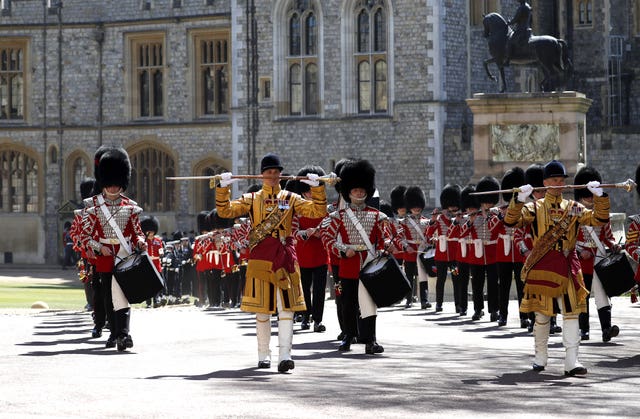 1.52pm
First Minister of Wales Mark Drakeford has sent a flower wreath to the Duke of Edinburgh's funeral to offer "sincere condolences" on behalf of the country.
The wreath, made out of white chrysanthemums and red roses, is accompanied by a short message written in English and Welsh by Mr Drakeford.
The message says: "On behalf of the government and people of Wales.
"Cydymdeimlad diffuant – Sincere condolences."
1.48pm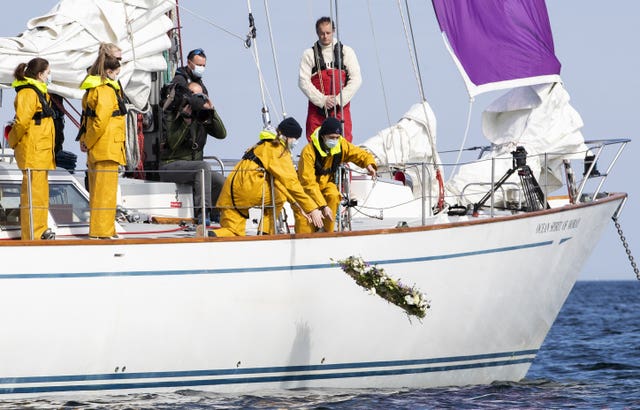 1.46pm
Sir Nicholas Soames, grandson of wartime prime minister Sir Winston Churchill, paid tribute to the Duke of Edinburgh, who he knew for 60 years.
Sir Nicholas, a former Conservative MP, told Sky News: "I first met him when I was a boy, 12 years-old, and I have to say it's one of the great privileges of my life that I had the chance to know him a little bit.
"He was a completely authentic person, what you saw is what you got.
"He was always extremely kind to me and I will always be grateful to him for that.
"I only ever saw him really on family occasions and he always struck me as being completely at ease, particularly with his children and grandchildren."
1.42pm
1.36pm
The Archbishop of Canterbury has arrived at St George's Chapel, Windsor Castle, ahead of the service.
The Most Rev Justin Welby will preside over the funeral alongside the Dean of Windsor.
They will receive the coffin after the minute's silence marking the start of the funeral.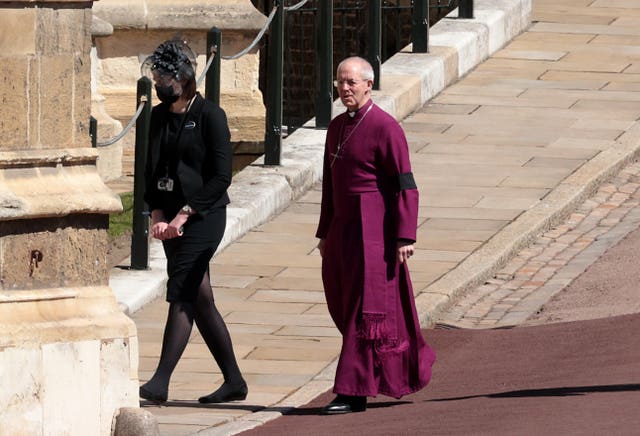 1.33pm
The Duke of Edinburgh's great niece has described him as the family's "glue".
Princess Xenia of Hohenlohe-Langenburg told the BBC: "He's been like a glue for the family, because sadly a lot of our grandmothers passed away much too early.
"But he was always there, he was the link, so he brought all of us cousins, even though we were in Germany – a lot of us but not all of us – he brought us all together on a lot of family occasions, the last one having been his 90th birthday celebrations 10 years ago at Windsor.
"We were all there, there was a huge bunch of us, and it was lovely."
1.31pm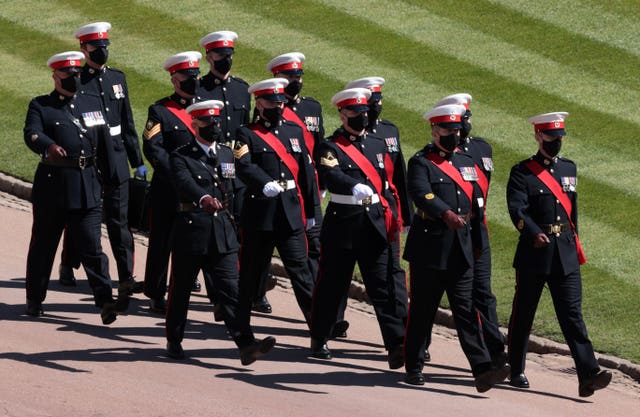 1.27pm
A royal supporter has spoken of his dismay that crowds cannot gather at Windsor Castle for the Duke of Edinburgh's funeral.
Speaking outside the historic castle, Professor Chris Imafidon, from Essex, who says he met Philip on a few occasions, told the PA news agency: "I think it's a disgrace, there should be more people here, especially when there are plans for people to return to football stadiums.
"It's such a mediocre service for a great man, his contribution to helping working-class people generally has been enormous.
"He has done so much for this country, there should be a big public celebration of his life.
"People have been asked not to come, so I think it will be a quiet atmosphere, I just feel so sad."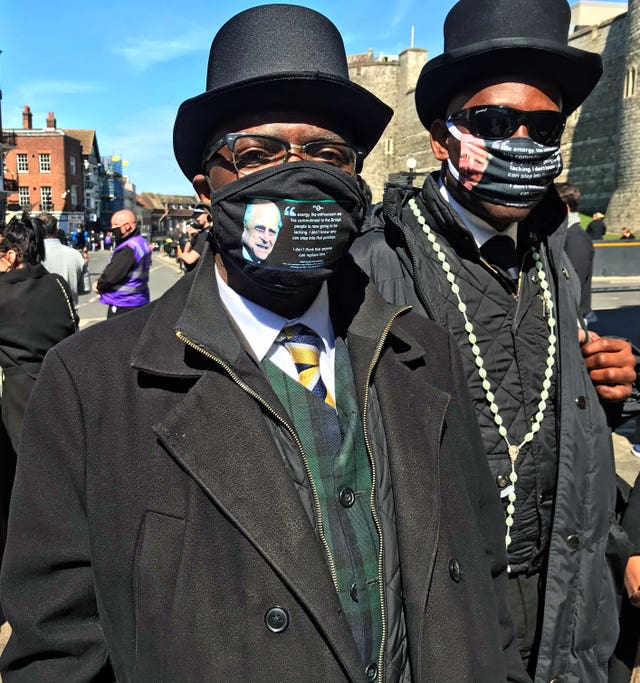 1.25pm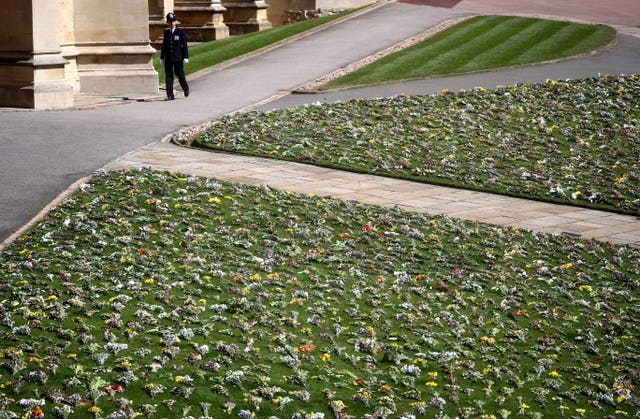 1.21pm
Armed police officers could be seen patrolling around Windsor Castle.
Hundreds of officers and stewards wearing purple vests were in place around the historic town while police vans and motorbikes were on the roads.
Shoppers and dog walkers could be seen around the high street, though there was little sign of royal supporters near the castle.
1.17pm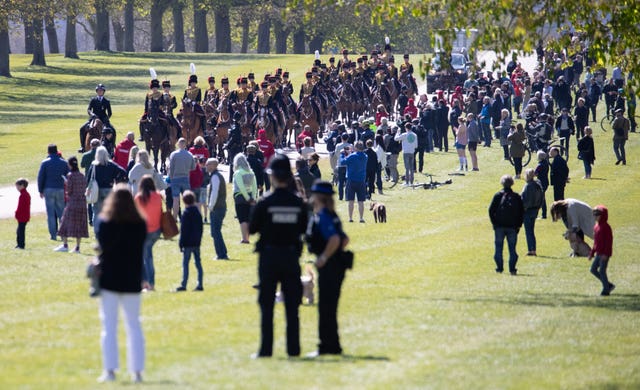 1.10pm
Labour leader Sir Keir Starmer said his thoughts are with the Queen and royal family ahead of the Duke of Edinburgh's funeral.
He tweeted: "Yesterday, I met inspiring young people completing the Duke of Edinburgh's Award.
"They told me about the confidence, experience and skills they've gained thanks to the scheme.
"It's a remarkable legacy for Prince Philip to leave our country.
"Today, my thoughts are with The Queen, everyone in the royal family and the British people who will be mourning and remembering Prince Philip."
1.06pm
1pm
Five coaches each carrying dozens of people in military uniforms have driven into the main entrance at Windsor Castle.
The large white vehicles drove in just after 12.30pm on Saturday.
Traffic on the high street was temporarily blocked off by police officers on motorbikes while pedestrians were halted by stewards.
Staff close to the castle had a difficult time ensuring pedestrians were keeping the pathways clear after the coaches had driven in.
12.54pm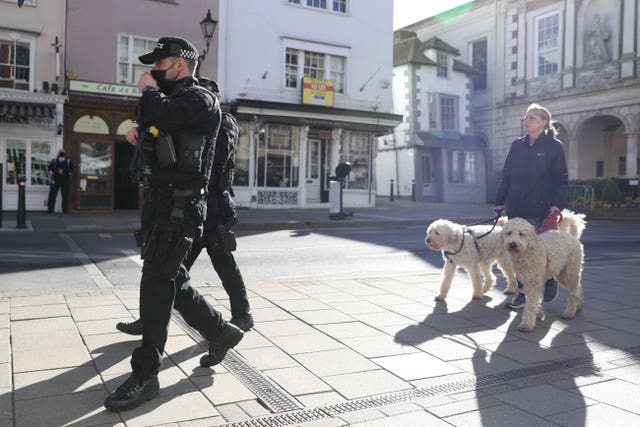 12.48pm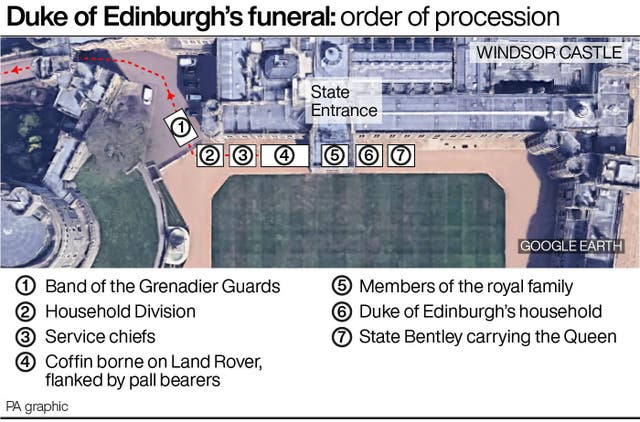 12.42pm
Prince Hassan bin Talal described his friend the Duke of Edinburgh as a "remarkable human being".
The member of the Jordanian royal family told BBC Radio 4's Today: "We were frequently guests at Sandringham and Balmoral, and in that context established a personal relationship
"I remember saying to him, 'How do I refer to you?'. He said, 'Philip is a perfectly good name'.
"I think I was very close to knowing the man, the human being, and in that sense I feel the privilege in having known not only an encyclopaedia of knowledge, but also an icon of human dignity."
12.38pm
12.33pm
One of the country's top military commanders, who was present at the rehearsal for the Duke of Edinburgh's funeral on Friday, has said it was "difficult to stifle a tear" when he heard the hymns which will be played at the ceremony.
General Sir Patrick Sanders, Commander of Strategic Command, who has met the duke several times, told BBC Breakfast: "I was standing at the rehearsal yesterday and you hear those first notes of Nimrod, and the hairs go up at the back of your neck, you get a lump in your throat.
"It's difficult to stifle a tear as you think about the duke and the impact on the royal family and the whole nation – and you stand there a little stiffer, a little straighter, determined to do right by him."
12.27pm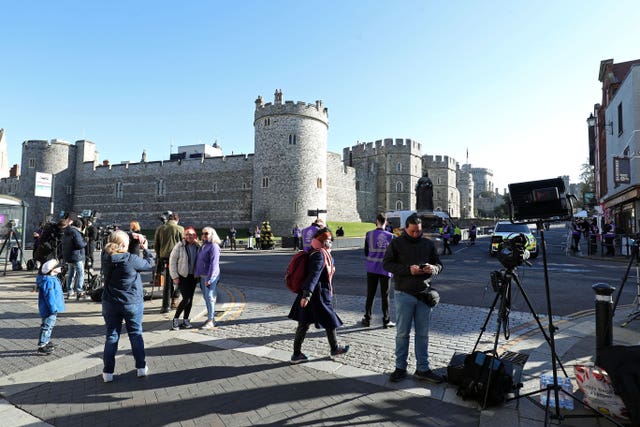 12.21pm
A former press secretary to the Queen said "very few people" took offence to remarks made by the Duke of Edinburgh.
Speaking to Sky News, Charles Anson said: "The occasional jokes were often very much enjoyed by those to whom he was speaking, I think he rarely offended all that much.
"I think Prince Philip's way of breaking the ice of making a joke including people in a conversation, he was marvellous in that respect.
"It was Prince Philip who introduced an informal remark and sometimes a joke, but actually when you look back on it very few people took offence, most people could see his sense of humour and knew he was well meaning."
12.16pm
Hundreds of people watched as the King's Troop Royal Horse Artillery processed along the Long Walk up to Windsor Castle at midday.
Dozens of riders, wearing black, gold and red uniforms and carrying three guns, rode up to Cambridge Gate where tributes to the duke have been laid throughout the week.
Members of the regiment will fire minute guns from the east lawn of Windsor Castle as Philip's coffin is taken from the castle to the chapel.
12.12pm
People paid their respects to Philip on the eve of the funeral.
12.07pm
12.06pm
Admiral Tony Radakin, the First Sea Lord, said the Duke of Edinburgh held a "very clear affection" for the military that was reciprocated.
The chief of the naval staff told BBC Radio 4's Today: "It is (a naval send-off at the duke's funeral) but I think it is much bigger than that.
"I really do think that for all of us in the military, today is about a royal funeral and it is about playing our part in that, but it is for the Royal Air Force, the British Army and the Royal Navy, and to reflect our dignity and respect and the affection we all had for Prince Philip, and the very clear affection that he had for all of us."
Detailing his "remarkable" long-held connections with the navy, Admiral Radakin recalled how the duke was evacuated out of Greece at aged 18 months on HMS Calypso before later going on to embark on a "distinguished" career in the service.
11.58am
11.50am
A woman with cerebral palsy has said the Duke of Edinburgh's Award taught her she can "do what anyone else can do".
Myah Richards, 21, has spastic diplegia, meaning she requires help from carers and uses a wheelchair or walking frame to get around.
She was introduced to the DofE award while at Lonsdale School in Stevenage, which teaches students with physical and neurological impairments, and she found that taking part changed the way she saw herself.
11.43am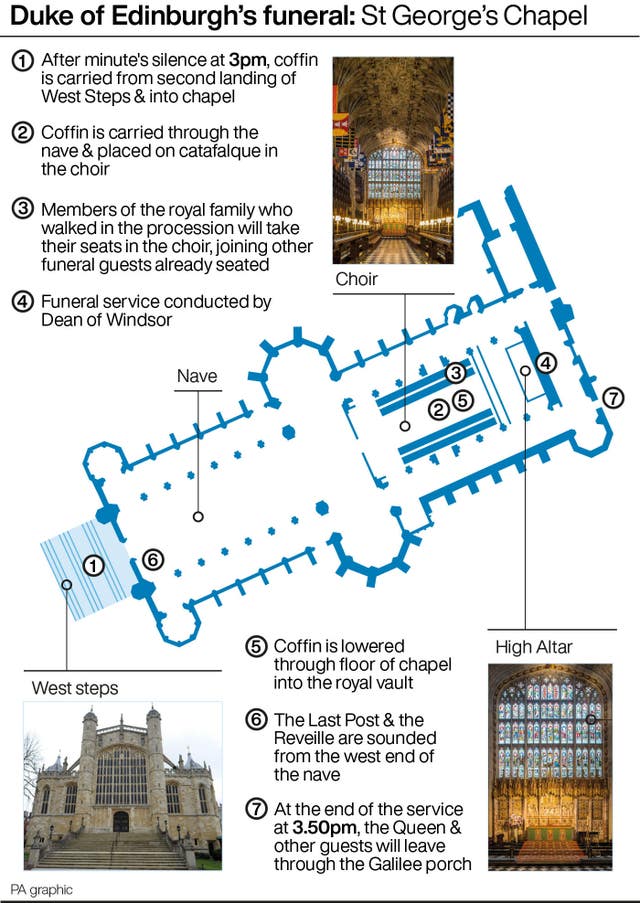 11.37am
Lord Chartres, a former bishop of London, said the Queen would be under "extraordinary pressure" during the Duke of Edinburgh's funeral as she mourns her husband in public.
The retired Church of England bishop, who was understood to be close to Philip, told BBC Radio 4's Today: "I hope that today people really will be sending up a prayer for the Queen and for the other members of the royal family because having to grieve in public is an extraordinary pressure and something that most of us would not really want to do.
"But it is part of their life and their world, and I hope today, and I'm sure, that people won't forget the personal dimension in the formal ceremonies."
11.31am
11.26am
Royal biographer Robert Hardman said the Duke of Edinburgh's funeral plan "very much reflects the man".
Speaking to BBC Radio 4's Today, Mr Hardman said: "It is reduced but I don't think it is any way diminished – the core elements are there."
He added that it would be a service that "very much reflects the man – very unstuffy, unfussy".
"You won't hear a eulogy or any great address – it is very much what he wanted but all the way through it are those echo of his naval career which shaped him," Mr Hardman said.
11.22am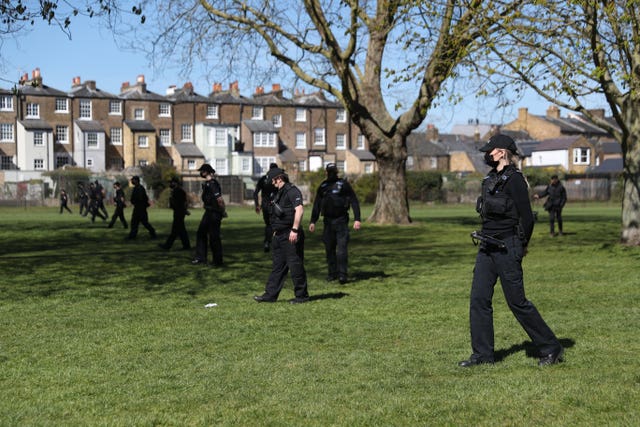 11.18am
11am
The Duke of Edinburgh's coffin, covered with a wreath, his sword, Naval cap and his personal standard, has been moved by a bearer party, from the Queen's Company, 1st Battalion Grenadier Guards, from Windsor Castle's private chapel to the inner hall ahead of his funeral.
Philip had a close association with the regiment serving as Colonel of the Grenadier Guards for 42 years.
10.47am
The Duke of Edinburgh's project to custom build his own Land Rover hearse spanned 16 years, with Philip requesting a repaint in military green and designing the open top rear and special "stops" to secure his coffin in place.
Philip made the final adjustments on the modified Land Rover Defender TD5 130 chassis cab vehicle in 2019, the year he turned 98.
He first began the long-lasting venture to create his own bespoke hearse in collaboration with Land Rover in 2003, the year he turned 82.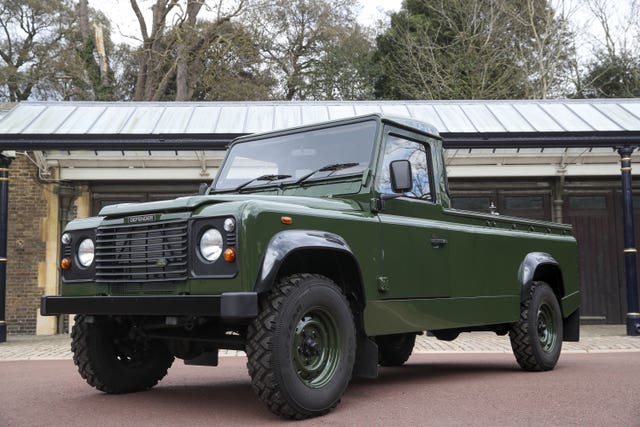 10.41am
Members of the public visited Windsor early on Saturday to pay tribute to the duke ahead of his funeral.
Artist Kaya Mar, 65, from south east London, took an oil painting of Philip, which he painted last week.
He told the PA news agency: "I liked him, he was a lovely family man who will be missed. He was hard-working and dedicated to this country and I think people will finally realise his value.
"He was a good public servant and will be missed."
Others came to place flowers at the gates of Windsor Castle.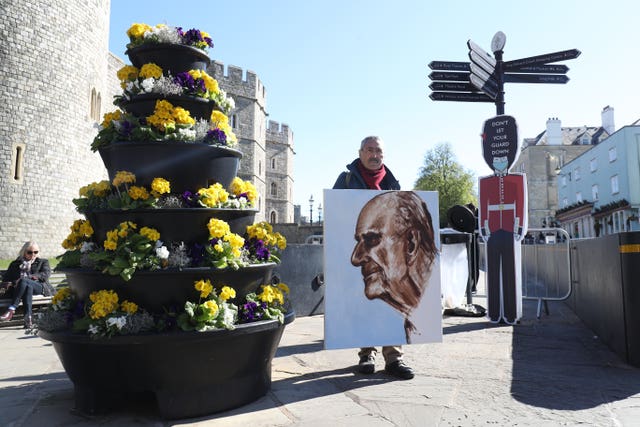 10.40am
10.35am
The Earl and Countess of Wessex inspected tributes that had been left on Friday.
10.22am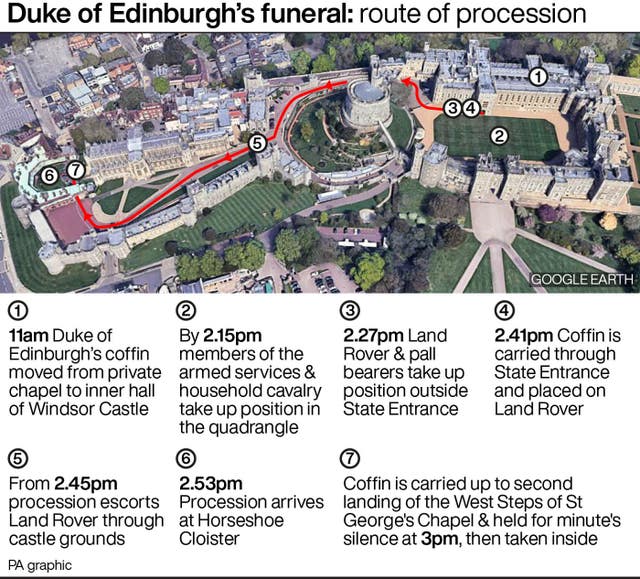 10.15am
A touching photograph of the Queen and Duke of Edinburgh that gave a glimpse of their lives away from protocol and ceremony was released on the eve of Philip's funeral.
The royal couple are pictured as they are rarely seen – relaxing together during a summer break and enjoying the stunning scenery of the Scottish Highlands on the Balmoral estate.